Exploit the Market Constraint
​
Take advantage of the Theory of Constraints power to sell more with less​
Know-how
Grow fast with all you can eat specific TOC knowledge in sales and marketing accessible for you. Explore, learn, implement and empower your business.
CRM System
Manage opportunity flow, not results, with specific TOC algorithm. Be aware of what's not moving as it is supposed to, and respond. Works on Odoo, Salesforce, MS Dynamics, Hubspot.

Daily Support
Daily stand-ups with your salespeople and Head of Sales to control Work In Process, prioritise and expedite opportunities under delay.

Top expert

Mindaugas Voldemaras
13+ years of experience implementing TOC in sales for industry leaders in Aviation, Transportation, Energy, Telco and all types of Manufacturing.
Mindaugas has extreme experience as a hard-tech entrepreneur and innovator. He has been sharing his know-how at ISM Executive School and his blog The Road Runner on Substack.
Standardisation
There're usually more than one route that your sales opportunities need to pass through to be won. Regardless how complex your sales process structure seems to be, in reality it is not more complex than London metro. Who ever got lost there?

Centralised Scheduling
The job of the scheduling function is to synchronise the rate of work across the sales team. Based on a sales process constraint load it sends signals to the backlog to either release new opportunities or chock the release.

Division Of Labour
Sales team harnesses the power of specialization. Each member excels, focusing on delineated roles tailored to precise stages of a certain sales process. This not only streamlines the process but amplifies the active selling capacity, usually by a factor of 2-4 times.

Daily Flow Control
The lengthy sales cycle poses challenges, with salespeople sometimes missing commitments, risking deals. To counter this, daily stand-ups should be conducted with a sales team, closely tracking Work In Process and addressing delayed opportunities.

Complete transparency

Managed opportunity flow

Each company's sales process map is usually unique but the primary objective always remains the same: improving opportunity flow (or equivalently sales cycle). Specifying the sales processes include defining stage sequences, stage durations and full-kits. Once this specification is setup on a CRM system along with TOC buffering algorithms, new policies and disciplines, sales execution becomes crystal clear without any grey zones.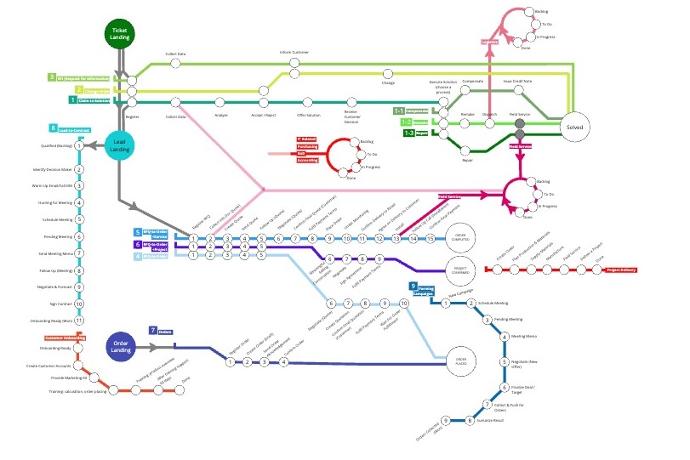 A growth trigger
Mafia-offers

It's a TOC marketing solution, described by Dr. Goldratt as 'an offer they can't refuse'. An offer so good that your customers can't refuse it and your competition can't or won't offer the same.
Series of workshops are conducted to construct, test and present such an offer targeted for a specific market segment.

Sales team design

Compensation system

Since people behave in the way they're measured, we pay high attention to the incentive systems we find at our customer sales teams and initiate to change them if they prevent to drive the team towards the company goal.
Any incentives have positive impact on salespeople productivity if and only if people are qualified, have necessary tools and if their responsibility and authority are aligned.

Pricing based on

Throughput Accounting

We'll educate your top management and quoting team on Throughput Accounting principles, moving away from traditional Cost Accounting.
This shift is crucial, especially when opportunities are lost due to pricing concerns, yet your company has excess production capacity.

Automated

Reporting & analytics

We apply Business Intelligence technology to automate and visualise real time reports based on data retrieved from the CRM. We also use Process Mining to analyse the actual flow data.
Your salespeople will never waste their selling capacity anymore by collecting and analysing the data of their own performance while the management will be able to make more precise decisions based on accurate and fresh data.

Intro meeting
Let's meet with the CEO of your company to agree on the problem, solution and "Yes, buts"
Start
We can start as soon as TOC expert capacity is available. Waiting time can take 0-4 months.
Setup flow
Defining of sales processes, full kits, stage durations, CRM configuration, sales team redesign
Go Live
It usually takes max 4 weeks from Start to Go Live. From now on, sales flow will be controlled every morning
Ongoing Improvement
Applying TOC Five Focusing steps to analyze and improve holistically
Sales Factory
(Saleforce, MS Dynamics, Hubspot)
A detailed specification of the TOC Sales Factory custom solution (requires configuration by CRM admin)

Specification, documentation & configuration of all sales processes




Intro / launch 4 hrs training for the

sales team

by TOC expert

Intro / launch 2 hrs training for the top management team by TOC expert on how to manage sales flow

Implementation of Standartisation, Division of Labor, Centralised Scheduling




Daily online Stand-ups




Weekly sales meetings: analysis, planning




Monthly process mining analysis




Mafia-Offer development
Sales Factory
(Odoo)
(Odoo subscription must be purchased from Enterprise Space)


Specification, documentation & configuration of all sales processes




Helpdesk specification & configuration




Intro / launch 4 hrs training for the

sales team

by TOC expert

Intro / launch 2 hrs training for the top management team by TOC expert on how to manage sales flow

Implementation of Standartisation, Division of Labor, Centralised Scheduling

Daily online Stand-ups




Weekly sales meetings: analysis, planning

Monthly process mining analysis




Mafia-Offer development